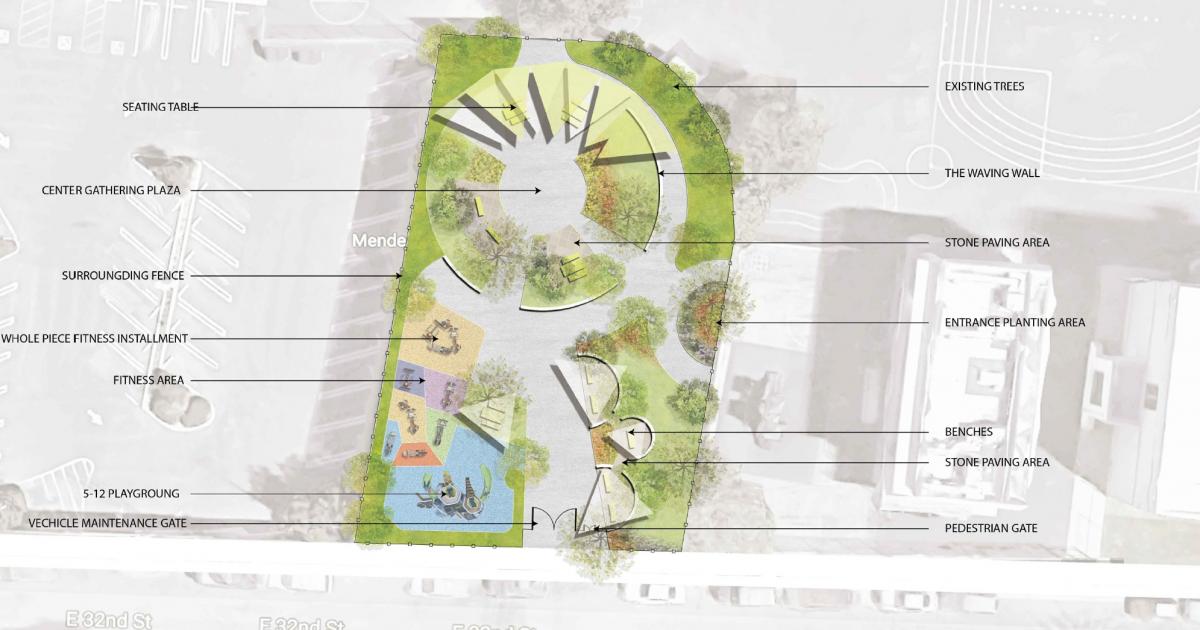 A former industrial site will become a pocket park in South LA
The City of Los Angeles' 50 Parks initiative, launched a decade ago, continues to bear fruit.
Rendering of Scheme A of Nevin Avenue ParkCity of Los Angeles
At its next meeting on June 16, the Los Angeles Board of Recreation and Parks Commissioners is expected to approve plans for a new public park on a former industrial site in South Los Angeles' Central-Alameda neighborhood. The proposed Nevin Avenue Park would sit on a quarter-acre property at 1527-1531 E 32nd Street, which is enveloped on its east, north, and west sides by the campus of Nevin Avenue Elementary School.
The new park, which would serve nearly 6,300 people living within a half-mile radius, was used by the Renu Plating Company from 1955 to 1984, leading to soil and sewage contaminants including alkalis, base metals and cyanide. Redevelopment of the site as green space will require the removal and replacement of the top two feet of soil throughout the property, as stipulated by a remediation plan approved by the California Department of Toxic Substances Control.
The new green space, which would be built according to two alternative design schemes, is expected to include a new entrance plaza, picnic area, children's play area, fitness equipment, plant garden, pathways walkways and an outdoor learning space. Additionally, 29 new shade trees are offered, including Red Oaks, Jacaranda, Palo Verde and California Bay Trees.
The total cost of the Nevin Avenue park, including land acquisition, is approximately $2.78 million. Construction is currently expected to begin in the summer of 2023, according to a staff report to the recreation and parks commissioners.
The project site is a few blocks north of another vacant former industrial lot at the intersection of 41st Street and Compton Avenue, where developer Thomas Safran & Associates is expected to build Parkview, a affordable housing of 127 units.
Nevin Avenue Park is one of 53 sites slated for redevelopment with open space as part of the 50 Parks Initiative, following other green spaces already completed such as Spring Street Park and Vermont Miracle Park.