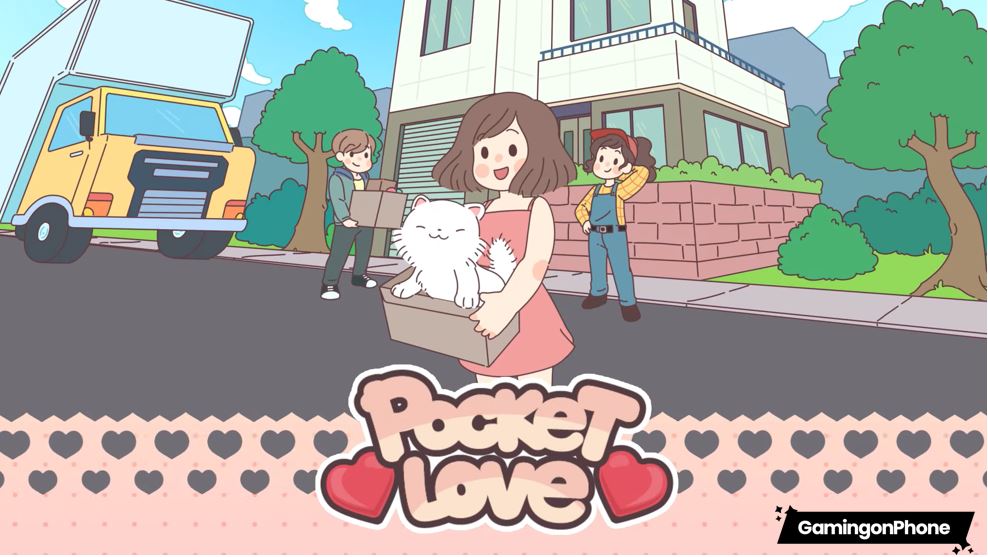 Build your family with this adorable simulation game
Hyperbeardthe studio behind cute house possesses spear their brand new simulation Game pocket love. Pocket Love is a simulation game set in a virtual neighborhood. Players have to build their dream house with different furniture which they can buy using in-game currency. Players have to manage their character and partner in this virtual pocket house. In this article we will review Pocket Love and share our first impressions of the game.
Choose your pet and start your own family in the sweet neighborhood
Players begin their journey in this pocket sim by creating their character and their partner's character. They have to choose from different hairstyles and further down, customizations like dresses can be done later in the game. Once that is sorted, players can choose their trusty pet.
Players have two options: either a cat or dog. There are different colors and styles of cats and dogs for players to choose from. Once done, they can name their pet and move on to play.
Once the creation is complete, players are welcomed to a pleasant neighborhood where they can start their families. They are given a small room where they can start decorating. Once they earn enough money, they can expand their space and add more furniture. At the start, players are given free money to start their journey. A small tutorial helps them on how the game works. Once done, players can start their journey towards building their dream house.
Shop from a wide selection of furniture and decorate your sweet home
Players can choose from a huge catalog of furniture from the amazing store. They can buy the furniture that fits their dream home. Initially, only a select amount of furniture is made available to players. But as they level up they can buy more furniture.
Furniture can be purchased from the Amazing Store. Items are delivered instantly to your doorstep. The best part is that there is no waiting or paywall for faster delivery which is very common in other simulation games. Players also receive free furniture outside their homes within a selected time frame.
Complete simple missions to earn money
In order to buy more space and furniture, players have to spend more money. Players can simply earn money by completing a set of tasks. Upon completing these tasks, players receive money which they spend on buying furniture and more space to build. There is also another way to get in-game currency.
Just like a very free-to-play title, the game also features microtransactions. If players think the tasks are difficult, they can reset the task by spending in-game currency or watching ads. Players can also earn money by watching advertisements. They can also get cool character accessories and futures by watching ads.
final verdict
In our opinion, Pocket Love is an adorable simulation game. The art style is very cute and nice to look at. There is plenty of furniture available for players to build their dream home. The game has a paid aspect, but the game is completely playable without spending a dime.
The game has ads but it's not pushed in your face. Players can earn rewards through ads if they want or they can jump in and play the game without. The missions or tasks in the game are very simple and easy to complete. The biggest advantage of this game over other simulation games is its simplicity, and this is also their biggest drawback.
The game is too simple. The missions are too easy. It's not a big deal, but it can get a bit annoying. The game also lacks other features like more character customization apart from outfits and hairstyles like more accessories. There are, but that's not enough. Even the ability to customize the pet is also weak. There is no way to visit other players' quarters. Although they mentioned that they will add this feature in the future. There are very few activities to do in the neighborhood.
Overall, it's a solid simulation game. Although it lacks some features, it's a great game. If you want to play a simple simulation game, this might be perfect for you. The game does not require you to play for hours.
Game mechanics – 8
Game modes – 7
Graphics and Music – 8
Controls and User Interface – 8
Free Items – 7
7.6
Good
Pocket Love is an adorable simulation game. The biggest advantage of this game over other simulation games is its simplicity, and this is also the biggest drawback.
What are your opinions on pocket love and your opinion on it? Let us know in the comments!
For more mobile gaming news and updates, join our whatsapp group, Telegram groupor Discord Server. Also, follow us on Google News, instagram, and Twitter for quick updates.