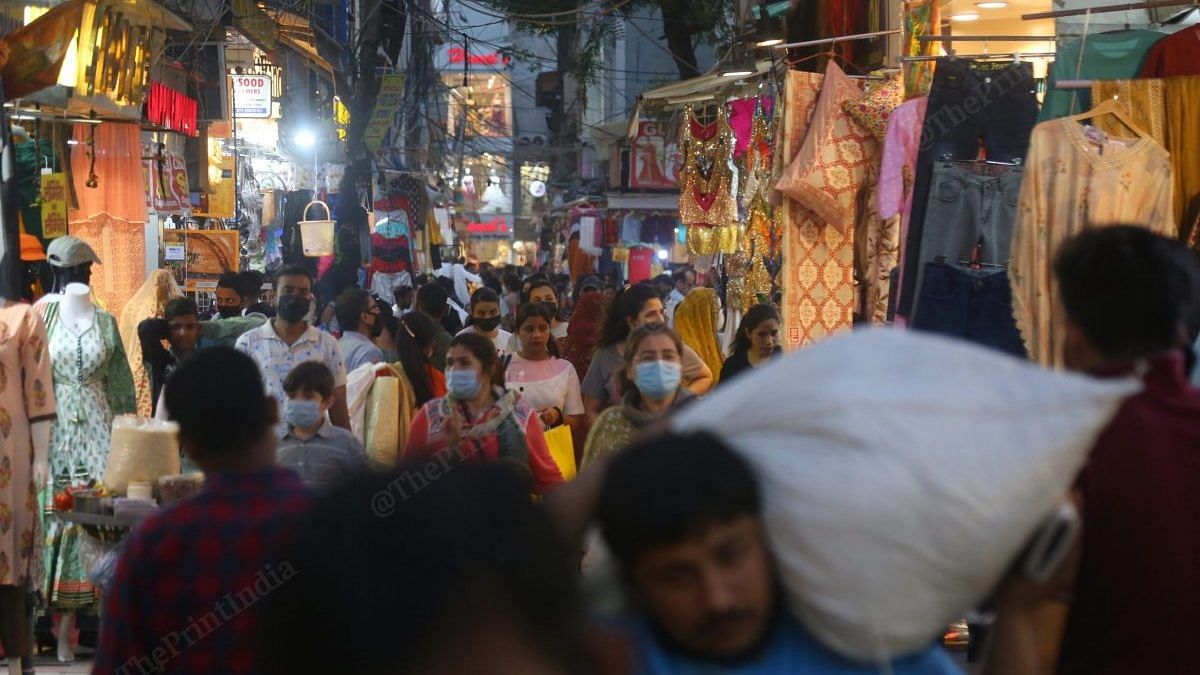 Masterjis and women who lead Delhi's "pocket" fashion
New Delhi: Calls from "100 rupees, 100 rupees, sab kuch 100 rupees",", "Madam jeans for only 300!", "Madam, A1 chappals for you, 150 only", "Aapka dhyan kidhar hai? sasta kapda idhar haiechoes in Delhi's flea markets — Sarojini Nagar and Lajpat Nagar in Janpath and Karol Bagh. In the background, like white noise, is the chatter of young and old, students and professionals, rich and less rich. But no one hears the silent sewing machines hidden behind the crowded establishments. Everyone is ready to fill their wardrobe with fashionable and easy to carry clothes. Nobody asks why traders offer their goods at very low prices. No one notices the work.
While the tailors, the "masterjis" of the world, who run the show behind the curtain, are mostly men, they are joined by women who help cut, sew, package and finish the product. For this, they are paid a paltry sum of Rs 1.50 per fabric. Three women ThePrint spoke to said they earn around Rs 500 a day, which means they cut around 300 pieces of clothing while working for an average of 12 hours. Charge increases during festival time.
Studies around the world have shown that hard work in sweatshops is detrimental to workers' health and leads to breathing difficulties due to long exposure to dust from clothing. Apart from this, there is also the issue of back and joint pain.
Satwant Singh, Chairman of the Tank Road Wholesalers Association, explains that migrant workers from Madhya Pradesh, Odisha, Uttar Pradesh, Bihar and Jharkhand come to the region in search of employment . Labor, he says, is relatively cheap, which helps keep clothing prices in the low range.
Everyone in Delhi has theories about the low prices of clothes at flea markets, ranging from second-hand clothes to export surpluses. But it's the crowded wholesale markets with indoor sweatshops, perfectly hidden in the capital's narrow ravines, that ensure Delhiites can live up to their reputation always dressed and decked out.
---
Read also : Custom shoemakers in Delhi are carving out a market niche with an emphasis on fit, quality
---
Ashok Bazaar and Tank Road – their oral histories
Welcome to Ashok Bazar in Gandhi Nagar, East Delhi, where live wires hang just six feet above the ground, drains are clogged and hordes of people walk briskly along ravines with shops on either side in the simmering heat when the mercury hits 40 degrees Celsius daily. About 11 kilometers from here is the Tank Road Market in Karol Bagh, which offers a similar experience.
These are two of the largest garment manufacturing centers in the capital – Ashok Bazar with 15,000 shops and 5,000 small fabric factories and Tank Road Market with 4,000 shops and factories.
Traders and manufacturers sit together, working in tandem, making thousands of suits, kurtis, jeans, pants, socks and underwear from 8am until long after dark. Association heads of both markets claim that their daily turnover is in the millions of rupees. According to the owners of the association, Gandhi Nagar has a reported daily turnover of Rs 400 crore, Tank Road Market has a monthly turnover of Rs 500 crore.
Delhi's markets have a large clientele. "Sarojini traders have their agents stationed here, and we also have representatives in the market who read the type of products the women want. Saket, INA, Karol Bagh… all NCR buys clothes from us," says KK Bali, President of Readymade Clothing Merchants Association, Ashok Bazaar.

Representatives of textile factories from Ahmedabad, Mumbai (Greater Mumbai region), Surat and even Bhilwara in Rajasthan have been stationed in the market, Bali says, so getting the required fabric is also easy.
The 71-year-old Bali is also a treasure trove of oral market history. He says that until 1972, Gandhi Nagar was a residential locality, when cloth shops started popping up and a weekly cloth market started at 'yamuna paar'. Traders, at the time, sourced clothes from Sadar Bazaar and Azaad Market and eventually branched out by importing clothes from Ludhiana and Kolkata.
The market revived in the early 1980s, when political and social unrest in Punjab forced traders and knitwear manufacturers out of Ludhiana, who came to Ashok Bazaar and opened shops. From there, Ashok Bazaar grew into Asia's largest ready-to-wear wholesale center. Currently, 3 to 4 lakh people are employed there.
Tank Road Wholesalers Association chairman Satwant Singh said the market only dealt with 'export surplus' before 1989. 'If you go back further in history, this market was a hub international for fake hair and wigs," he says. In the early 1990s, the market began to evolve into a center of jeans manufacturing. "In the past, jeans were too expensive for an ordinary man. Adjusted for inflation, they cost no less than Rs 4,000. Our traders understood this problem and imported two machines to manufacture jeans here at an affordable price. They reduced the cost from Rs 4,000 to just Rs 300. From there, this market took over and became a hub of garment manufacturing," he says.
---
Read also : The 15-year-old Banjara Market, which could become Gurugram's new Kathputli settlement
---
Why prices are low
Apart from cheap labor, Bangladesh's "illegal" export surpluses and second-hand clothes also ensure prices below 500 rupees.
Tank Road also has many traders who deal in export surpluses. From Zara to Jack and Jones to Levis and Nike to Adidas, you name the brand and it's there in the market. Traders get surplus clothing from Bangladesh in Kolkata. However, they cannot always take the legal route. "Most of the export surplus garments enter the country from Bangladesh or China, but most of these connections were made illegally," Bali said.

Second-hand clothes make up a tiny percentage of traded clothes. "The clothes are sent to be washed and dyed in Faridabad, Panipat… from here they arrive refurbished, ready for use by the women of Delhi," said a trader who did not wish to be named.
---
Read also : Research shows that the role of intermediaries is poorly understood. Local market realities more at stake
---
Application for redevelopment
The old markets started in residential areas are now bloated to the brim. Narrow and overcrowded gullies are not only a dangerous configuration, but also hamper businesses.
"Business people from all over the world come to Ashok Bazaar, but we don't even have a multi-level parking lot where visitors can park their cars. There are long traffic jams every day. A lot of pollution and losses for our business are happening because of this," Bali said.

"The municipal corporation does nothing. For 5,000 stores here, there are only three toilets. The association had to maintain them. We posted staff there for daily cleaning," Singh complains.
Delhi's deputy chief minister, Manish Sisodia, recently proposed a plan to redevelop the city's markets. Wholesale market associations hope that Sisodia will also look to them and redevelop areas like Chandni Chowk has done.
Clogged sewers, narrow lanes, dangling wires, electricity pylons in the middle of the road, long traffic jams and lack of transportation are some of the things that need to be addressed. But Sisodia's Rs 100 crore set aside for the redevelopment was said to be too little. The government may have to loosen its purse strings a bit and be more liberal.
(Edited by Srinjoy Dey)