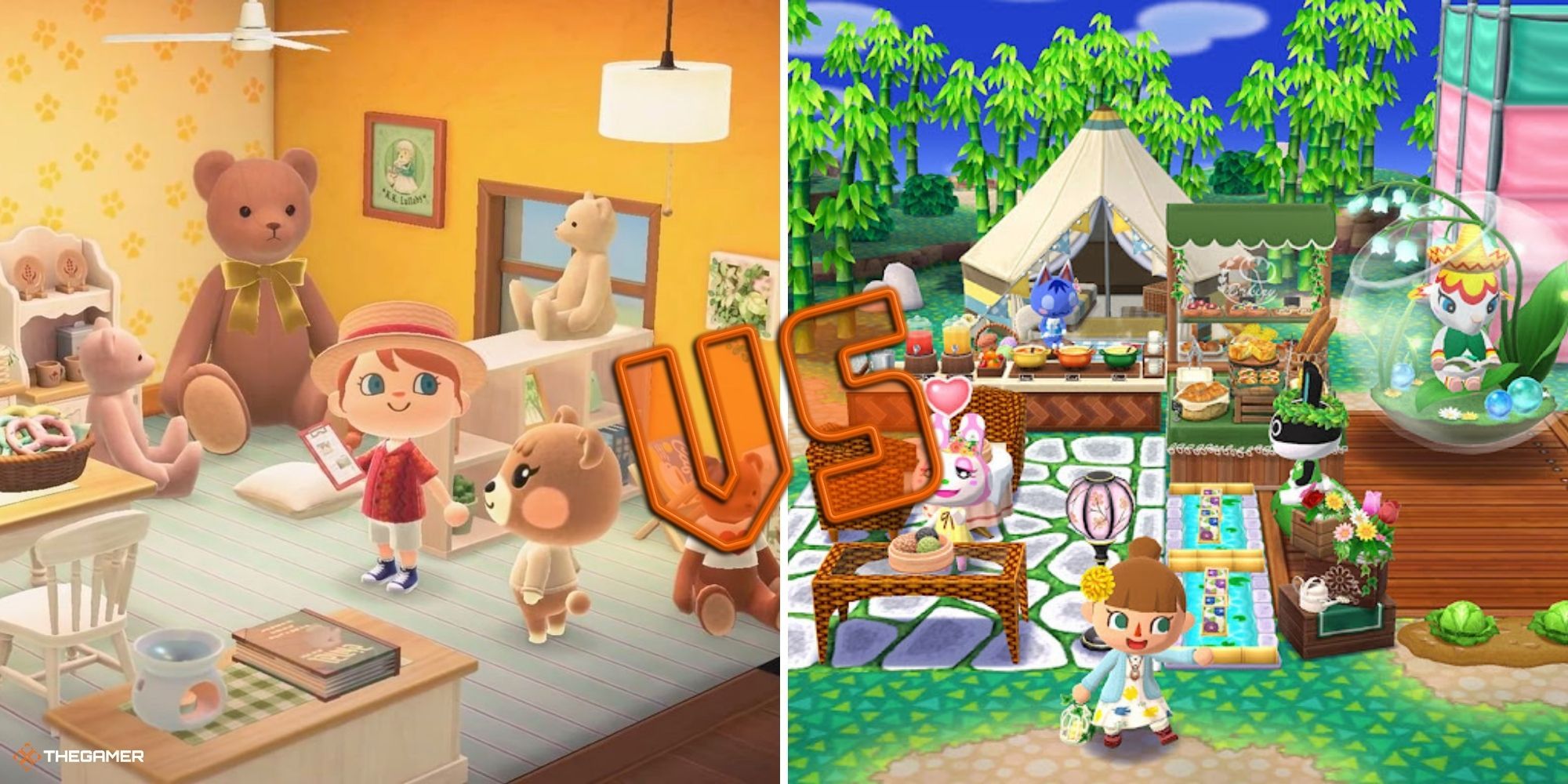 Pocket Camp Features Added to New Horizons 2.0 and Happy Home Paradise
Avid Animal Crossing: New Horizons fans often hate the series' phone game, Animal Crossing: Pocket Camp. They envy its constant updates, gorgeous furnishings, and other features that are all so consistently maintained. Of course, that's because Pocket Camp, like most phone games, is full of microtransactions that earn Nintendo millions of dollars, whereas New Horizons is a one-time purchase.
RELATED: Animal Crossing New Horizons: Ways to Decorate Your Beaches
When Update 2.0 and the game's first DLC, Happy Home Paradise, was announced and released, many (but not all) of New Horizons players' frustrations were allayed. However, we couldn't help but notice that some of these additions looked awfully familiar. Here are some changes to New Horizons that are pulled straight from Pocket Camp.
6

Furniture and clothing
A big sticking point for many gamers was that the phone game offered far more varied and interesting furniture and clothing options than New Horizons. And, looking at all the items that tempt you in Pocket Camp, it's hard to disagree! Heck, you can have a living, breathing, moving bird perched on your head like a hat!
While Animal Crossing: New Horizons update 2.0 and the Happy Home Paradise DLC didn't exactly bring all of the game's wonderful items to the phone, they did add a significant number of new clothing and furniture options that players will have fun discovering and experimenting. for the months to come.
5

Gardening
In Pocket Camp, players garden with flowers like in New Horizons, but they've also been gardening with food, like eggplant, long before New Horizons' 2.0 update.
RELATED: Animal Crossing 20th Anniversary: ​​All Animal Crossing Games, Ranked
Although the Switch game technically had food gardening in the form of pumpkins for a while, it was really just a way to get pumpkins for Halloween. More in-depth and varied gardening, like in Pocket Camp, was added in Update 2.0.
4

Cooking
Following the addition of more harvestable foods in New Horizons, a cooking mechanic has also been included! It allows players to combine their ingredients into delicious and hearty meals. Meal crafting was already a mechanic in Animal Crossing: Pocket Camp, but the two games take different approaches to the concept.
In New Horizons, you catch fish for fish meals, harvest fruit for fruit salads, grind wheat into flour, and more. Meanwhile, in Pocket Camp, you can make many of the same recipes, but they're made with the same resources as all of the other craftable items are. You don't make a sushi platter by catching fish (although you can do that), you make it by combining "Wood", "Preserves" and "Harmonious Essence".
3

The marketplace
A huge draw of Update 2.0 for New Horizons was Harv's Island, which morphed into a common for many NPCs you only see occasionally, whether because they only visit your island. once a week, whether they're seasonal or weren't even in the game before! You can buy from sellers, have your future predicted, access your inventory, the works!
Of course, something incredibly similar was already present in Pocket Camp. In the app game, this is called the Marketplace, and just like the Commune, it features characters not found elsewhere during gameplay. In some cases, these are literally the same characters as the Commune, such as the Truck Reese and Cyrus!
Your personal spaces to decorate in Pocket Camp are your campsite and your RV. However, the game adds several more ways to test your decorating skills as you play, including a two-story cabin and dozens of decorating lessons!
Animal Crossing: New Horizons follows Pocket Camp's lead by adding extra space to decorate. This comes in the DLC, Happy Home Paradise, in which players can decorate vacation homes for dozens of animal friends! Each villager has their own piece of land and a house, both of which are fully customizable – even more customizable than your own house on your island! In fact, it's not just houses; you can also decorate your own restaurants, schools, hospitals and more!
RELATED: Animal Crossing New Horizons: The Best New Features, Ranked
1

More active and accessible villagers
In Animal Crossing: Pocket Camp, the various NPCs are awake at all times of the day to talk to you, even if they say they are sleepy. They also play with the different objects you place in your campsite, whether it's a simple display or a full picnic! New Horizons villagers simply wander around the island; that looks pretty disappointing in comparison.
Luckily, the 2.0 update included some new features that brought villagers much closer to those in Pocket Camp. One of the cutest is that villagers can now visit you at home! They may offer you a snack or just make snarky and passive aggressive comments about your furniture choices. They can also now match your own sleep schedule with the introduction of Island Ordinances! Although they may not always be available, they may go to bed late if you do, or rise early like you! Another island ordinance keeps your villagers busy pulling weeds and watering flowers around the island. It's (unfortunately) still not on the level of its phone gaming counterpart, but it certainly comes very close.
NEXT: Animal Crossing New Horizons: Ways to Decorate Small Spaces
'I'm quitting the game immediately': Trans players react to Forza Horizon 5's deadnaming
Forza Horizon 5 addresses you by the name of your Microsoft account, but for some trans players this has unintended consequences.
Read more
About the Author