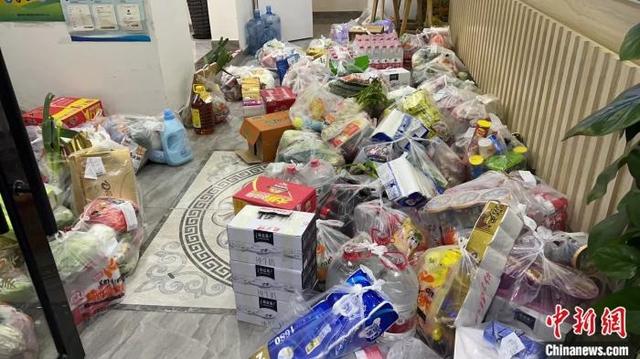 Shanghai delivery man empties his own pocket for others
April 14, 2022
BEIJING – On the evening of April 10, Yang Yaosen, a delivery man in Shanghai, sat at the door of a local neighborhood committee to take a break. He had just finished the day's job of delivering necessities to residents locked in the city.
Soon he would come out into the dark night again, rushing more supplies to the people who were eagerly waiting for him. Unlike others, he paid for all the goods out of his own pocket.
According to the Chinanews news portal, in the past 20 days, Yang Yaosen has spent nearly 70,000 yuan (about 10,996 U.S. dollars) to buy food and other daily necessities for people in need.
With a new round of city-wide testing beginning on March 28, areas east of the Huangpu River, known as Pudong, have been temporarily closed due to the growing number of COVID-19 infections. This became a turning point in Yang's life.
Yang and his fellow couriers were quarantined at home. Some couriers struggled to get food because the online food delivery services they previously relied on for food were no longer available.
Yang, who is in charge of a delivery branch of his business and also works as a member of the district office for epidemic prevention and control, began to consider getting more food and other supplies.
On the first day of action, he bought 100 items of supplies to share with his co-workers. But he later discovered that many other people were also worried about food. He therefore "expanded his voluntary service" to more people.
Yang admitted that it was difficult to stock up on the first few days and that he had to buy products at high prices from dealers or from grocery stores that were still open. Fearing that other couriers might soon be able to pay the high bills, he gave them everything he bought for free.
With more people asking for help, Yang insisted on not taking money from them.
"I get along very well with the residents here because I do the delivery work. How could I recharge them at a time like this? Especially for families with pregnant women, small children or elderly people who live alone," Yang said.
Under closed management, people need more than daily necessities.
For the elderly, the drugs they take daily are essential, and some psychotropic drugs can only be prescribed by doctors and purchased in hospitals. For this, Yang has to go through the whole process in the hospital, including explaining the patients' condition to the doctors.
"Somebody has to do this job," Yang said.
"When I give things into the hands of people who really need it, I can see the gratitude in their eyes. My heart is warm and I think everything I do is worthwhile.
There is an old man in a nearby residential community with whom Yang once played chess. According to Yang, the old man is reticent and does not know how to express himself. Yang was thinking of him after his residential community closed and called him later.
The old man refused his offer of food and other supplies, but Yang didn't give up. He brought the things home and kicked them out. As he turned to leave, the old man stopped him and handed him a bunch of bananas without a word.
"I don't really like bananas, but I took some anyway," Yang said.
Some people transferred money to him via WeChat, usually more than the value of the delivered item, but Yang did not accept it.
Knowing that Yang usually worked all day and came home late, the front desk staff in the apartment building he lived in waited for him every day and prepared fresh meals for him.
Yang also organized a volunteer team of nine people to provide services to more than 200 residential communities.
"I want to do more for the city. Everyone in Shanghai is expecting a return to normal life," Yang said.