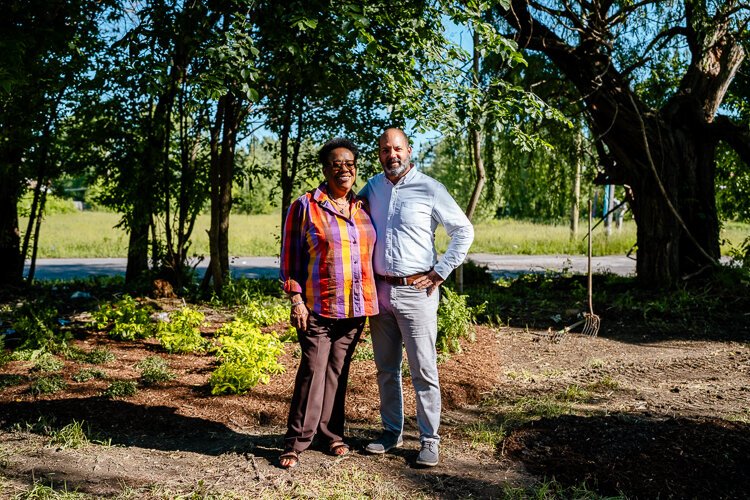 This southwest Detroit neighborhood will soon have a new pocket park and greenway
Until recently, Bieniek Park and Dingeman Park in the Chadsey Condon neighborhood of southwestern Detroit were often referred to as "ghost parks", abandoned recreation areas that have been abandoned.
Ethelyn Carroll, a southwest Detroit resident and president of the region's United Block Club Council, recalls how bad things got at both parks a few years ago.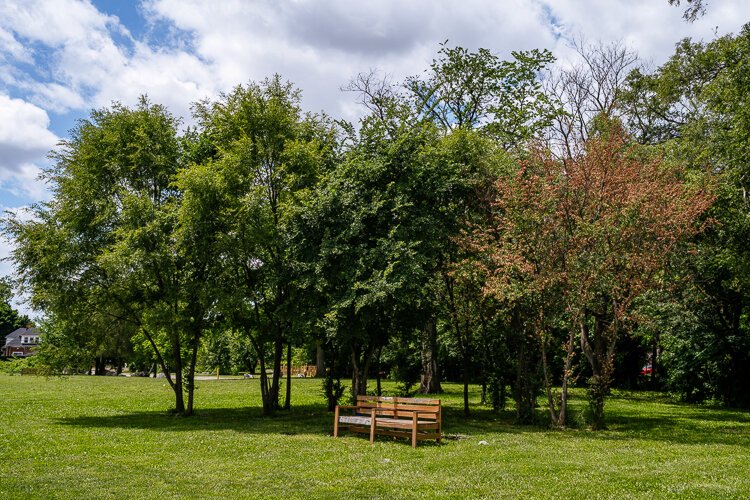 Bieniek Park
"The grass hasn't been cut," she said. "Weeds, rocks, dirt, tires. No fence or boundary. Nothing there. Nothing the kids could play on. It was just a vacant open space."
Detroit stopped maintaining Bieniek Park, located at the intersection of Kirkwood Street and Braden Street, for a period following the city's bankruptcy in 2013. However, in 2015 the city's Department of General Services challenged the use of the term "downgraded" to outline rumors of potential park closures at Bieniek Park and 75 other Detroit parks tied to a draft planning document that has been made public. Dingeman Park, adjacent to Munger Elementary and Middle School, fell into disrepair after the the city sold it to the Detroit Public School District (now the Detroit Public Schools Community District) in the early 2010s.
However, the situation has improved in both recreation areas in recent years. Groups of friends have embraced both the parks and basic maintenance as grass cutting is once again underway. Dingeman still suffers from invasive weeds and there is a lack of functional play equipment for children at both sites, but work is underway to further improve the pitches.
Working with other neighborhood groups and residents, Bridging Communities, a nonprofit that serves Chadsey Condon, is working to install a new greenway that will connect Dingeman Park to Bieniek Park. The project will also include a new pocket park which is expected to open later this month.
Caroll, who says the neighborhood suffers from a lack of quality recreational areas, is eager to see the project come to fruition.
"I've been to the Dequindre Cup, and I think a greenway is a wonderful way to connect all of our neighborhoods," she says. "I've seen a lot of progress, so I think it's going to be great."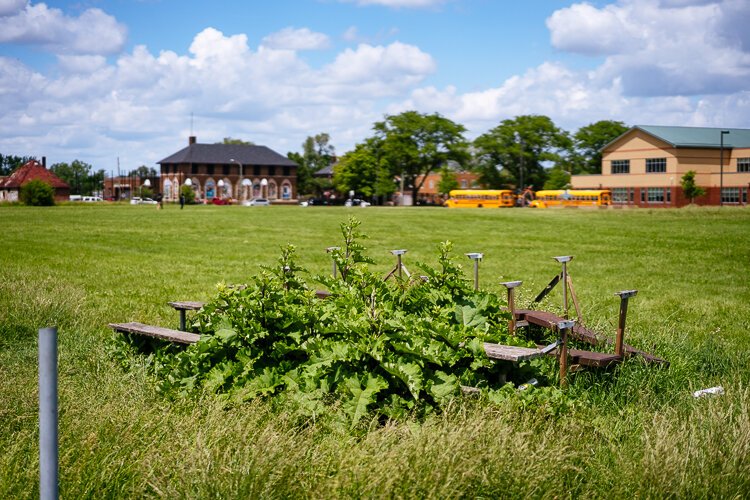 Dingeman Park sits on the former site of Detroit's Chadsey High School. Path to a greenway
The effort to install the new greenway and pocket park grew out of Chadsey Condon's 2019 Development Plan, a vision for the neighborhood facilitated by Community Development Advocates of Detroit (CDAD). Bridging Communities, a member organization of CDAD, created the plan with residents and other local stakeholders through a variety of participatory community meetings, focus groups and surveys. Public space issues emerged as one of the top three concerns identified during the planning process.
"A die [top priorities] was looking to activate more open space and create recreational opportunities throughout the community," says Dan Commer, Neighborhood Stabilization Manager for Bridging Communities. "It was really important, because the closest recreation center to this community is over 2.7 miles away in Patton Park."
This lack of options was of particular concern to parents, as the multicultural neighborhood is home to a relatively high concentration of children and young people. The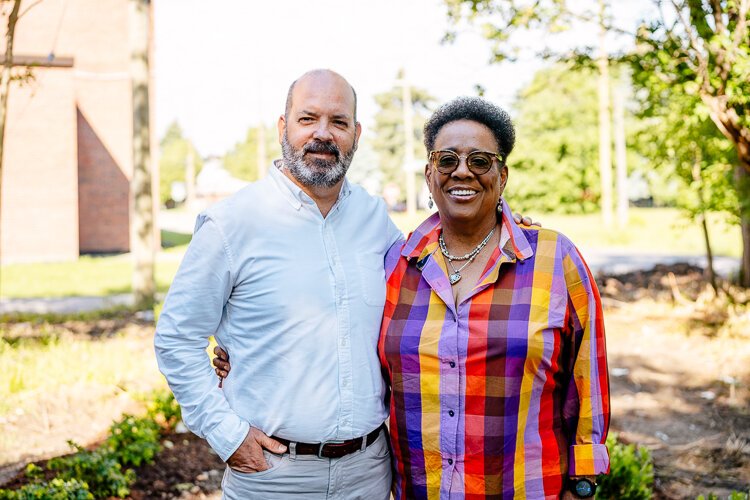 Dan Commer and Phyllis Edwards 48210 Zip code where Dingeman and Bieniek Park are located houses 10,637 young people aged 18 and under, according to data from the 2019 American Community Survey compiled by Data Driven Detroit. This represents approximately 35.4% of the total population of Chadsey-Condon.
According to Phyllis Edwards, outgoing executive director of Bridging Communities, Blight was also a motivating factor in launching the greenway project.
"People were doing illegal dumping where [Dingeman] Park is, "she said." And so we tried to find a way to reallocate a vacant aisle [and] do something with the green space to stop some of the scourge."
Work with other residents and community groups, such as Defenders of Dingeman Park, Bridging Communities became involved in cleanup efforts for recreation venues and the surrounding community. He also applied for and was awarded a $150,000 Kresge Innovative Projects: Detroit (KIP:D) planning and implementation grant to begin developing the greenway, as well as a $10,000 planning grant for the Local Initiatives Support Corporation (LISC) via ESPN RePlay.
In conjunction with the McGraw Resource Stop, a collaboration made up of local community organizations and residents, is currently developing the Braden Street Greenway. While trail details are still being worked out, the roughly quarter-mile trail will connect the two Chadsey Condon parks via a vacant driveway parallel to Braden Street. And, as fate would have it, the first phase and entry park of the highly anticipated Joe Louis Greenway is being built on Warren Avenue, about a quarter mile from Bieniek Park.
"The idea is that you could go from Dingeman Park on the quarter-mile greenway through Bieniek Park and then with some orientation through the neighborhood to Joe Louis Greenway," says Commer. "It will create this more connected community and connect Chadsey Condon to the Joe Louis Greenway."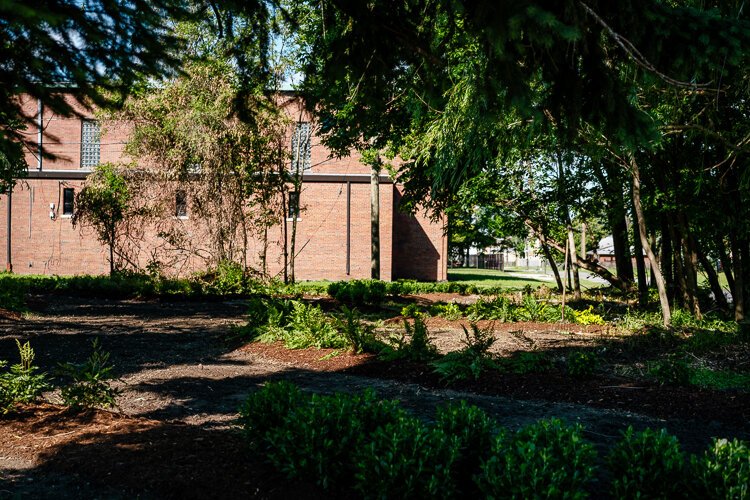 The new pocket park at Braden Street Greenway.
A pocket park for Chadsey Condon
While the Braden Street Greenway is not expected to be completed until December 2023, the new pocket park will open later this month.
A small groundbreaking ceremony for the new pocket park will take place on June 23. A larger public rally celebrating the service of outgoing Bridging Communities Director Phyllis Edwards will be held the following day, June 24, from 3-6 p.m.
The new public space has been a long time coming, from Edward's perspective, and she can't wait to see community members using it.
"It's an opportunity for intergenerational interaction," she says. "Kids can come. Families can come. Our seniors can go sit and meditate. We're trying to make it an intergenerational park that appeals to everyone."
The approximately one-acre park, which has yet to be named, will be located in the middle of the trail at 5697 Braden Street. In addition to pleasantly landscaped greenery, it will include two benches, a WiFi station, and a table with an integrated chessboard for chess and checkers. The furniture is built with reclaimed materials provided by Detroit Architectural Salvage Warehouseincluding timber from a local church that was recently demolished.
Bridging Communities secured land for the approximately one-acre pocket park through a maintenance agreement with the Detroit Land Bank. Planning for the new park began about a year ago and was overseen by Ujujji Davis Williams of JIMA Studio, a Detroit-based black-owned landscape architecture firm.
The pocket park and the area to become the greenway have already been used by the community. In 2020 it was part of the Detroit Month of Design activities and last year it was the site of a Sidewalk Festival organized by the nonprofit Sidewalk Detroit in conjunction with Bridging Communities, Brilliant Detroit and d other partners.
Augusta Morrison of Sidewalk Detroit enjoyed the experience of working on the festival and seeing local residents engage with the space.
"Hundreds of people attended the art, music, dance and installation experience. We activated what is a very non-traditional performance space and used some of the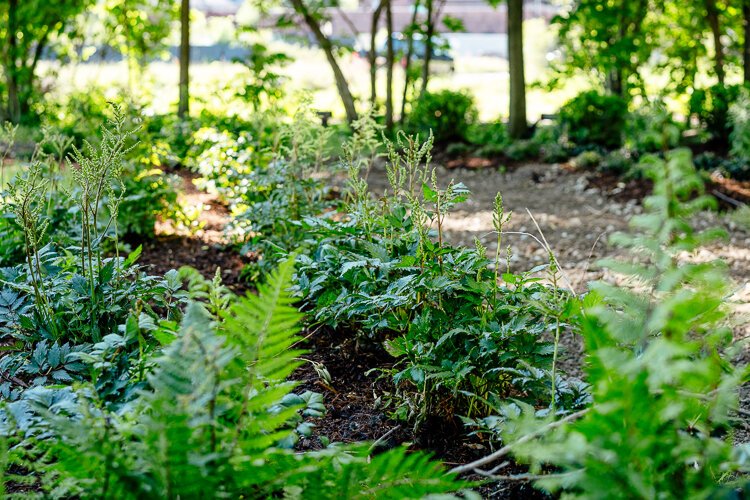 The BSG Pocket Playpen existing infrastructure, like the Flower Stage, and created a full-day experience for residents of this neighborhood," she says. "We hope there will be many more events like this in the future.
Beyond the greenway and pocket park, Bridging Communities is also exploring the possibility of bringing a mini soccer field and basketball court to Dingeman Park. For Commer, these recent developments are a wonderful example of what a local nonprofit can achieve by collaborating with others in their community.
"We're trying to demonstrate that in a neighborhood in Detroit that's not part of the neglected Strategic Neighborhood Fund – with parks that weren't being maintained – has been so resilient that we've actually created comparable community spaces. what you might find along the RiverWalk."
All photos by Nick Hagen.
Resilient Neighborhoods is a reporting and engagement series that examines how Detroit residents and community development organizations are working together to strengthen local neighborhoods. It is made possible thanks to funding from the Kresge Foundation.