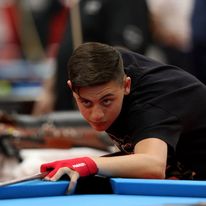 White and Daly split top prizes on Eastern Billiards/Andy Cloth/Corner Pocket Premier 9-Ball Tour – News
It wasn't really the first and it probably won't be the last.
This past weekend (May 14-15), Eastern Billiards, Andy Cloth, Stephanie Mitchell's The Corner Pocket Pool Hall in Largo, FL, and Jamison Daniels performed something of an official launch of a series of Premier events. 9-Ball Tour. In April, the first three of these sponsors held what they called a Shootout, which drew 32 attendees to The Corner Pocket. Won by Kyle Bova, the Shootout acted as a sort of "proof of concept" demo that led to the lineup and eventual $2,000 event that drew 53 attendees to Corner Pocket last weekend.
According to Mitchell, the effort is designed as a series of stand-alone events and while it bears the moniker of a traditional "tour", it will not be subject to traditional tour fees or a player-specific overall format; nor specifically disabled (although the most recent event been disabled) or Pro or Ladies events, for example. The next scheduled leg of the tour, scheduled for July, on a specific date to be determined, is scheduled as a women's event.
Trenton White and Chris Daly, seeking his first recorded win since winning a stage of the Poison Tour eight years ago, split the event's top two prizes after the event's semi-final between Daly and Kyle Bova. As the occupant of the hot seat at the time, White became the official winner of the event.
White opened his journey in the hot seat with two consecutive shutouts, against Wanda Crews and Cory Wilcox, before giving up his first rack (two of them, in fact) to Nathan Rose and four more to Mike Lear. He drew Joseph Dyer into one of the winning side's semi-finals. Daly, meanwhile, got through Tom Mittnight, John Cohmer, Frank Costantino and Carlos Gomes before meeting Kyle Bova in the other winners' semi-final.
Bova diverted Daly's "journey to the final" train to the losing side's tracks 6-2 and qualified for the game on the hot seat. White joined him after dispatching Dyer West 6-4. White started the hot seat match of the race at 6 with a single "pearl on the wire" he didn't need. He netted the five racks he needed before Bova dropped a single 9-ball.
On the losing side, Daly picked up Mike Lear, who followed his loss to White with wins over Costantino and Penera Mota, both 5-1. Dyer drew Rose, who had been another victim of White's winning exploits, then, secured by Scott Tollefson, before winning back-to-back matches against Carlos Gomes and Raymond Linares, both in doubles.
Daly and Lear battled to double up the hill, before Daly advanced to the quarter-finals. He was joined by Dyer, who had eliminated Rose 5-3. Daly won his rematch against Bova with a 5-3 win over Dyer in those quarter-finals.
Although Daly started what would turn out to be the final match of the event, the 5-man race semi-final, with a 'pearl on the wire', Bova's chances of winning the match (as calculated by Fargo Rate) were just over 50%; 52.5 against 47.5 for Daly. So statistically almost equal. Daly gave up just one rack as he saved the five he needed for a shot against White, waiting for him in the hot seat. A shot, as it happened, that didn't materialize, as White and Daly negotiated a split of the top two prizes.
Tour Director Chad Kosier thanked Eastern Billiards' Gary and Ruth Lucchesi for their "opportunity to keep great tournaments alive", as well as Andy Cloth, Jamison Daniels, Stephanie Mitchell and her staff at Corner Pocket for their hospitality and Rob Charles for "invaluable help". He also thanked Billiard Livestream's Allen Ellison for his efforts to bring the event to his remote audience members.
As noted above, the next Eastern Billiards/Andy Cloth/The Corner Pocket Premier 9-Ball Tour event will likely be a women's event, scheduled for a date to be determined in July. For more information, you can keep an eye on Stephanie Mitchell's (The Corner Pocket) Facebook page and submit a friend request, as well as any specific requests.
Go to thread